On September 17, 2019, SCALIAN & IMT Mines Albi officially signed the SCAN joint laboratory, which has been been organized for an initial period of 5 years starting October 1, 2019.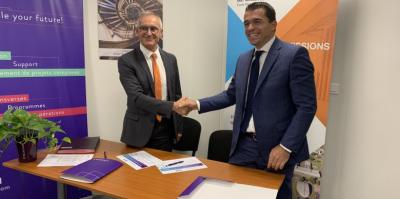 The SCAN joint laboratory aims to provide business decision-makers with the keys to better take into account the risks and opportunities to which their activity is subject, and thus improve the agility and resilience of their supply chains. The research program proposes to develop "immersive" solutions based on technologies such as virtual reality, augmented reality, serious multi-player games, holistic simulation, interactive dashboards, cockpits and control towers,etc.
This "immersive" approach should enable managers to benefit as much as possible from an extended environment providing a clear, dynamic, interactive and trusted vision to support decision-making.
THE OBJECTIVE OF THE RESEARCH SCHEMA
to develop an agile management system for supplier risks and opportunities,
to design an instrumented methodology for designing and/or improving business resilience.
The work is based on the capacity to develop models that allow to :
Establish future alerts in the more or less near future ;
Evaluate the assumed consequences of these events (risks or opportunities) on the activity of the supply chain concerned;
Suggest, if necessary, action plans to limit the impact of the risks or to better benefit from the opportunities.
This research program will take the form of 3 doctoral theses spread over the five years of the collaboration contract. These PhD theses will be organized in the framework of co-directions with IMT Mines Albi's partner universities in order to facilitate the emergence of ideas and their implementation. In particular, a strong partnership with Georgia Tech Georgia Tech (USA) has been initiated.
The joint research laboratory SCAN will be attached to the SCALIAN R&D LAB directed by Antoine DELUGEAU and to the Centre Génie Industriel of IMT Mines Albi directed by Professor Xavier LORCA.
The operational director of the SCAN joint research laboratory will be Julien JEANY and Professors Matthieu LAURAS and Frederick BENABEN will be in charge of the scientific direction of the laboratory.
Learn more about Scalian

SCALIAN is an engineering mid-cap company developing digital systems and business services to improve the performance of industrial operations. SCALIAN is structured around three main business areas: digital transformation, digital systems and operations performance. SCALIAN addresses issues related to supply chain management in sectors as varied as aerospace, energy, transport and defense. One of SCALIAN's ambitions is to propose tools to improve industrial performance by taking advantage of the possibilities offered by the digital technologies now available. In particular SCALIAN wishes to develop innovative solutions to better manage the risks and opportunities of a network of partners.
More details about IMT Mines Albi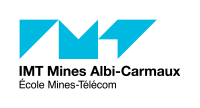 IMT Mines Albi is a school within the Institute Mines Telecom (IMT), the number 1 group of Engineering & Management schools in France. To train rigorous, enterprising engineers skilled at stimulating firms. To invent new products and processes through advanced research. To develop them with industrial partners, and thus contribute to the economic expansion of our territory. These are the missions of IMT Mines Albi. Thanks to the Centre Génie Industriel, IMT Mines Albi develops approaches, models, methods and tools to help in the design and operation of processes and projects that generate value, in particular applied to supply chains and also has strong skills in the management of uncertainties (risks and opportunities). The Centre Génie Industriel is internationally recognized in the application of methods derived from Artificial Intelligence to the world of Industrial Engineering: data sciences, model engineering, knowledge engineering and operational research.